#TSRPositiveImages: Kendrick Lamar Makes Disabled Fan's Day With This Big Surprise . . .
Kendrick Lamar and TDE recently surprised a quadriplegic fan with a new modified minivan during a stop on his Damn Tour.
According to The Root, Jennifer Phillips has been a die-hard K-Dot fan for years and hasn't let her injury stop her from attending eight of his shows so far.
In a video of the backstage meet-and-greet, the rapper gifted Phillips with an autographed tour jacket that said he was buying her a new wheelchair van.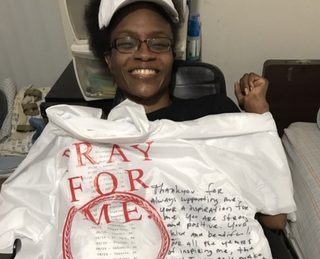 "Thanks for always supporting me. Your a inspiration for me," Kendrick's handwritten message read. "You are strong and positive. Your kind and beautiful. For all the years of inspiring me, the least I can do is make sure your comfortable driving the city. A gift from me to you. Your always appreciated."
Phillips said next time, she's driving herself to Kendrick's show.
TSR STAFF: Avah Taylor @avah_taylor on IG & @avahtaylor on Twitter!
What's Tea Roommates? Leave a comment!
other roommates are saying...