From Ice Spice Ft. Nicki Minaj To SZA Ft. Doja Cat: Here Are 5 New Collabs To Get Your Playlist Poppin'
/listicle/from-ice-spice-ft-nicki-minaj-to-sza-ft-doja-cat-here-are-5-new-collabs-to-get-your-playlist-poppin/
The weekend is finally here–and so are a couple of new bops to push us through! And it's worth noting the industry girlies are stepping on necks on their way to the 'hot drops' top.
Nicki Minaj jumped on Ice Spice's Princess Diana, Doja Cat slid on SZA's Kill Bill. K. Michelle has us belting on Justin Champagne's Country Love Song. Mariah the Scientist linked up with NBA YoungBoy. And Ciara gave us the remix video of her empowerment anthem, For Da Girls, featuring Lola Brooke and Lady London.
The list is STACKED, but here are FIVE new collaborations to get your playlist poppin'.
And yes, you are welcome!
Let's scrollllllll….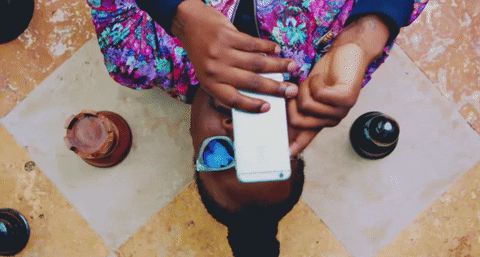 #1
Nicki Minaj Announces Ice Spice Partnership Amid Their First Collab On 'Princess Diana' Remix
On Thursday, Nicki Minaj warned her fans, nicknamed Barbz, that a Queen Radio episode was coming! She jokingly told them, "Don't aggravate" her until the show drops–which ended up being at 8 p.m. PDT.
But the hours-long wait brought BIG surprises–including her record label's name reveal and first label collaboration with Ice Spice. Minaj introduced Spice, whom she's recently shown online love to, as a special guest on Thursday's show.
"Heavy On It is the label, and I'm proud to announce my partnership with the one and only Ice Spice," Nicki said.
Nicki first announced the label during the return of Queen Radio in March at its new home Amazon's Amp. She revealed that Patty Lauren is the label's first A&R, and some artists signed include Nana Fofie, Tate Kobang, Rico Danna, and London Hill.
The extent of her partnership with Ice Spice is unknown, but their first collaboration is a remix of Spice's Princess Diana. 
https://t.co/3wrm5vwHUi pic.twitter.com/FZ9XV0PN8Z

— Nicki Minaj (@NICKIMINAJ) April 14, 2023
The remix comes on the heels of Ice Spice's feature with Paper Magazine, where she reflected on her rise to fame. She credited having her "own motion" and her father's underground rapper career as influences.
On Friday, Ice Spice and Nicki Minaj released the official music video to the Princess Diana remix.
Amid the video release, Queen Radio is trending as number one in the U.S. on Twitter. Meanwhile, the remix track has already reached number one on iTunes Top Songs.
The princess links up with the queen!@icespicee_ collabs with @NICKIMINAJ for the #PrincessDiana remix. https://t.co/SRDCfd6LEd pic.twitter.com/g4CCfxSCoU

— Apple Music (@AppleMusic) April 14, 2023
#2
Doja Cat Joins SZA On 'Kill Bill' Remix
Like the aforementioned collab, SZA and Doja Cat surprised fans with the remix of Kill Bill. 
The original track was part of SZA's latest project, SOS–with the music video dropping in January 2023.
A few hours before releasing the remix, Doja tweeted at SZA, hinting at their forthcoming magic.
Doja, who recently spoke on her abilities as a rapper and the doubt she faces, wrote, "@sza sis..I did something bad." SZA shot back, "Jesus…what is it."
Jesus.. what is it https://t.co/u6bx5ydf6K

— SZA (@sza) April 13, 2023
Later, SZA tweeted a link to the collab–all emojis and over 1.7 million views as of Friday.
https://t.co/XlL8osTZ9l KILL BILL REMIX FEAT @DojaCat out naowwwww 🩸😈🫡

— SZA (@sza) April 14, 2023
On Friday, SZA also posted an animated visual to accompany the new drop!
#3
Justin Champagne Taps K. Michelle For 'Country Love Song' Song + Video
K. Michelle promised fans a country era–and she's delivering! In early March, the singer released a collaboration with country singer Justin Champagne titled Country Love Song.
But her interest in the genre started before she found fame with R&B hits like Can't Raise A Man and V.S.O.P.
Still, while on the rise, she told PEOPLE she didn't envision herself as a country singer–and wasn't encouraged to go that route either. 

"Basically, I was told that going into R&B was the only route or at least the easiest route," K. Michelle said. "So, that's what I did. But there was always this little  piece of loneliness and a sadness in me because I couldn't do what I know I was suppose to do."
Nonetheless, the artist is now boldly claiming her passion for country music in the public eye. She told PEOPLE, "Country music is who I am."
The follow-up music video to her first official country music release appeared on YouTube on April 12. Ride 'em, K!
#4
NBA YoungBoy And Mariah The Scientist Drop First Collab
NBA YoungBoy may be confined to his Salt Lake City, Utah, home while on house arrest, but those creative juices are freely flowing!
This week Baton Rouge rapper tapped Mariah The Scientist for a midnight Friday release. Titlted Rear View, by Friday afternoon, the song was trending on YouTube.
The release comes a week after YoungBoy added another Nicki Minaj collab to his category with WTF, which reportedly has over 2.6 million streams on Spotify and upwards of 3.7 million YouTube views.
#5
Ciara Taps Lady London and Lola Brooke In 'For Da Girls' Remix
Ciara also came through with some new music nearly a month after folks online were tussling over the messaging in her empowerment track For Da Girls. 
This for all Da Girls that's in love with they self. This for all Da Girls that done did it by they self. -My Forever Letter To Myself -❤️ pic.twitter.com/Iy9T4SxQIQ

— Ciara (@ciara) February 20, 2023
Criticisms aside–the singer tapped Lady London and Lola Brooke for a track remix. The female rappers joined CiCi in the official video, also released on Friday.
Earlier this week, Ciara was a trending topic after Chris Brown announced they're cookin' up some heat together. The tease sparked comparisons to Chloe Bailey's backlash after working with Brown.